Virginia finds her friends for life at HSGC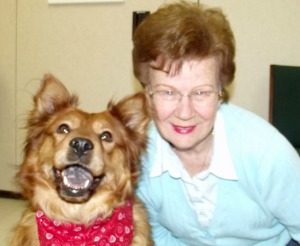 Zoey, a Chow mix, who had recently given birth to five sturdy pups, came to us because the owner had lost everything and was forced to move where no pets were allowed.  Zoey looked healthy but once she was tested, was found to have heartworm disease, a potentially life-threatening condition if not treated.  The treatment is costly and risky, but it was necessary in order to save her life.  Upon completion of her treatment and recovery, Zoey was made available for adoption.
Zoey did not know it, but she was beginning the journey of her new life.  Virginia was looking for a new dog, and as a frequent visitor at HSGC, she knew this was the place to adopt.  When she saw Zoey's soulful and loving eyes, she knew right away that she was the one.  Knowing what Zoey had endured with the disease and recovery, it only strengthened the bond between the two. Zoey was adopted that very day, and given a new name for her new life, Francine.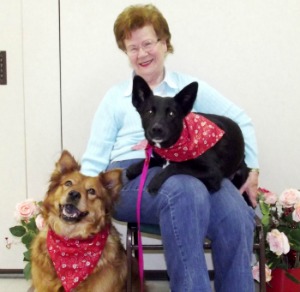 That was in 2009.  Since then, Virginia has adopted two more lucky dogs from us...Pepe, a little white Poodle and Millie, a black Lab mix.  Also a survivor of heartworm and its treatment, Millie was going to be the perfect fit.  On January 15th of this year, she was formally adopted into Virginia's menagerie of spoiled dogs.
Thank you, Virginia, for being an outstanding pet owner and a proud supporter of the Humane Society of Genesee County!