Wednesday, December 18, 2019 - Saturday, December 21, 2019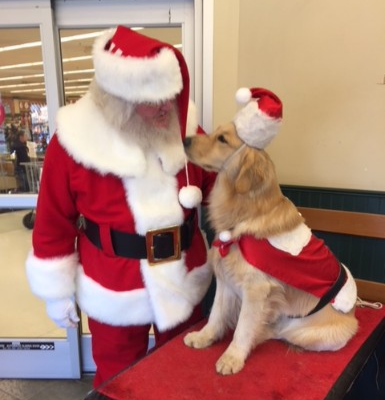 Location:
Bueche's Food World 400 N. Ortonville Rd. Ortonville, MI 48462
Description:
The Story of Santa Dog
The concept of "Santa Dog" began when Dog Lover and Dog Show Judge Carl Liepmann, a Board Member at The Humane Society of Genesee County, had an epiphany in 1982 while on his travels.
Liepmann, who was in California judging a show, checked into his hotel. Upon unpacking his suitcase he realized he was missing some necessities. A grocery store was within site across the parking lot of the hotel, so he walked to the store to pick up his items. As he entered the store, he saw a wooden wishing well in the lobby. As he got closer to it, he read a sign on the wishing well that read "When you are shopping, please buy some dog or cat food to put in our well".
The well was empty.
Heartless, non-caring people? No…but there was nothing to attract anyone to the lonely wishing well that sat there stagnant every single day. Customers would pass it by without a thought, because there was nothing drawing their attention to it.
When Liepmann returned to his hometown of Flushing, MI, he approached his good friend Phil Bueche, the owner of Bueche's Food World with an idea. Carl proposed that he could do that same concept, but could bring his dog with him to the store… who doesn't want to pet a dog? What better way to bring awareness to the plight of homeless animals?
Phil and Carl decided that the holidays would be a great time of the year as people bustled to get their holiday cooking done. They set up a booth in the grocery store lobby where people could donate pet food to be distributed to The Humane Society of Genesee County, and the very first Santa Dog was started.
What started as a weekend event has now turned in to a week-long event at both Bueche's Grocery stores in Flushing and Ortonville. Thousands of dollars have been raised over the 36 years Carl and with his many "Santa Dogs". The program has expanded to provide not only pet food to the shelter, but also critical other needs such as cleaning supplies, paper toweling and detergent.
Carl Liepmann is known simply as "The Dog Guy" in Flushing, and as one person said so perfectly, "It just wouldn't be Christmas without Santa Dog".